Dean Dillon, Sonny Throckmorton & David Lee LIVE at the Jose Armadillo Road Show
Don't miss this HUGE kick off to the Jose & Armadillo Roadshow at The Roundup – Friday, Feb 16!
The legendary DEAN DILLON, the songwriter to George Strait's biggest hits, will be performing along with fellow Grammy nominated songwriters David Lee & Sonny Throckmorton!
THIS IS A LIMITED TICKETED EVENT! Don't wait and get your tickets now before they sell out!
Come and get a glimpse into the magical world of songwriters and hear the stories of what inspired them to write these hit songs! You will laugh, smile, and even cry while hearing them perform your favorite country songs! It will be an unforgettable night!
VIP Ticket: $65 advance/$70 Door (*if available) Includes Early entrance, Reserved table seating, Full Course Steak Dinner, Cocktail Service, and meet and greets with the artists!
General Admission: $25 advance / $30 at the door
Dinner is served from 7-8pm
Show begins promptly at 8pm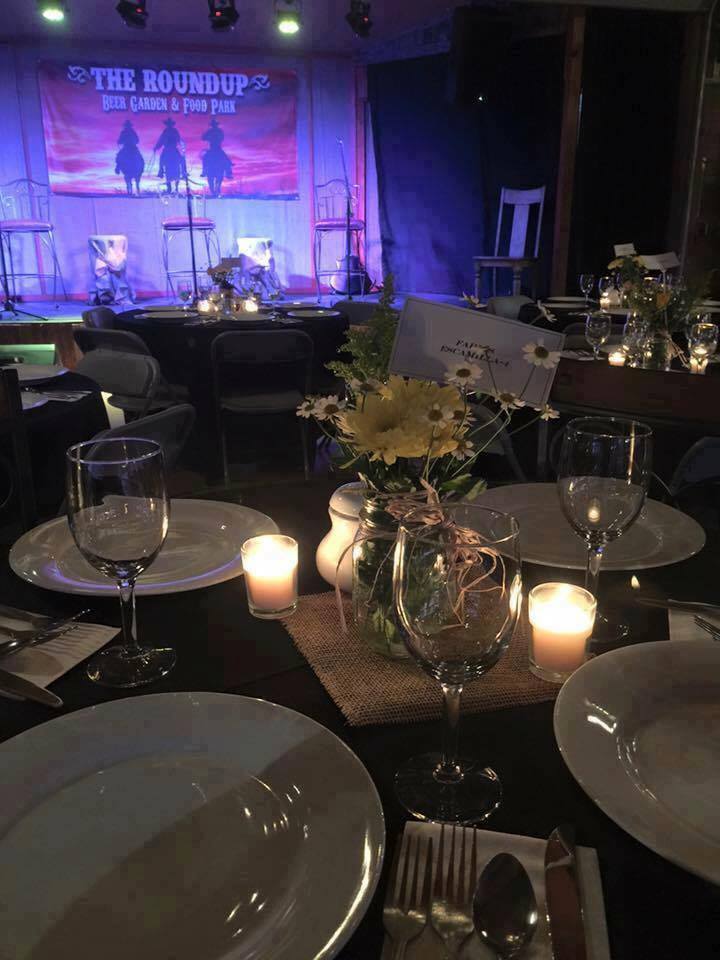 Dean Dillon Bio:
Dean Dillon was born on March 26, 1955, in Lake City, TN and started playing guitar at the age of 7. At the age of 15 he appeared in a local Knoxville, TN Variety Show called JIM CLAYTON'S STARTIME as a songwriter and performer; by the end of high school, Dean Dillon had his mind set on Nashville.
After hitchhiking to Music City in the early 70's, it wasn't long before he caught the watchful eye of Shelby Singleton of SUN RECORDS. After a short recording stint that produced one record, Dean was once again walking the streets of a town he barely knew. In 1976 Dillon landed the role of Hank Williams in Opryland's Country Music Show, USA. The theme park gig indirectly helped Dillon secure his first publishing deal with Nashville producer, publisher Tom Collins. Three weeks later Barbara Mandrell recorded three of Dillon's songs. In 1979 Jim Ed Brown and Helen Cornelius had a number 1 hit with Dillon's "Lying Here In Love with You" a song he co-wrote with fellow tunesmith Gary Harrison of "Strawberry Wine" fame. It was both writers first number 1 hit record.
Although it was writing songs for others where Dillon's future lay, the young singer was hell bent on making it as a recording artist. Between 1979 and 1981 Dillon released 12 singles for RCA Records. Three of the songs reached the Top 30 on the country charts, including "Nobody in His Right Mind Would've Left Her," which climbed all the way to number 25 (and later became a number 1 hit for George Strait). Between1979 and 1983, as an artist Dillon charted eight times and broke the Top 30 with "I'm into the Bottle (To Get You out of My Mind)." He also wrote hits for other country stars like the 1983 George Jones number 1 hit "Tennessee Whiskey". These successes established Dillon as a performer and as a songwriter. It wasn't long until Dillon was paired by RCA Record head, Jerry Bradley, with Gary Stewart, the "King of the Honky Tonkers." The vices of the two men fed off of each other and while their two bleary, good-timing albums were successful and looked like hard-living prototypes to Brooks & Dunn, (especially 1982's Brotherly Love), the partnership had little use for the straight and narrow. After "Those were the Days", Dillon took a five year hiatus from recording, cleaned up his personal life and concentrated on songwriting. He wrote or co-wrote a number of hits during this period and had considerable success with George Strait, who took five of his songs to the charts between 1981 & 1988. The exposure landed Dillon a new contract with CAPITOL RECORDS, who released two Ricky Scruggs produced albums, Slick Nickel and I've Learned to Live. The later featured a Tanya Tucker duet "Don't You Even Think About Leaving." Dillon next signed with ATLANTIC, where he issued his most successful album. It was 1991's Out of Your Mind which referenced the hard country of Dillon's heroes, but it also flirted with pop. The LP was lauded as a throwback, an answer to Nashville's penchant for vapidity.
In 2002, he was inducted into the Nashville Songwriters Hall of Fame (along with Bob Dylan and Shel Silverstein). Early the following year Dillon signed a songwriting contract with Sony/A TV Tree, which came after his fifteen year relationship with Rose Acuff, a publishing company Sony acquired in July 2002.
Dean Dillon's songwriting has thrived. He has recently written songs for famous faces like Kenny Chesney, Toby Keith and Lee Ann Womack. His association with George Strait over the years has brought him to an ICON STATUS in country music. It's the relationship with Strait that has, to a large extent, defined both of their careers. And in a genre built on great songwriters writing for great singers, there has never been another team like it. Dillon has composed or co-written 63 songs for Strait, including 19 singles, 11 which went to number 1. Even in a career like Strait's, the Dillon titles stand out: "Marina del Rey", "The Chair", "I've Come to Expect it From You", "Easy Come, Easy Go", "She Let Herself Go", and "The Best Day." His songs all pair instantly catchy melodies with gutbucket country lyrics, signature qualities of a Dillon composition that would also become hallmarks of Strait's own style and sound.
As producer Tony Brown explained "they are the elements that allow Strait to sound traditional without sounding old-timey.
At his ranch home in Gunnison, Colorado, Dean Dillon's walls display an array of timely photographs and awards consisting of: 1985 Billboard Country Music Artist Of The Year Award; 1986 Nashville Song Writers Award; 1995, 1996, 1998 CMA TRIPLE PLAY AWARD ; Three Time Grammy Nominee; Lee Iacocca Award (American Automotive Division); Twenty Six (26) Number 1 Records Award; and the coveted 2013 BMI Icon Award.
David Lee Bio:
In an ever changing music world fraught with people trying to be something they're not, David Lee is nothing but himself, a Wichita Falls born Texas native and a third generation musician.

The Grammy nominated and multi award winning songwriter cut his teeth in the Texas honkytonks. Playing a mix of blues and country music is where he first found his own songs.

In 1993 David moved to Nashville with his new wife Stacie to chase his dream of performing and writing music. Only weeks after arriving in Nashville, David put away the idea of performing and focused on honing his craft. He spent countless nights at songwriting venues not to perform his original music but to listen to the best songwriters in the world, he deciphered their rhyme schemes, their melodies, subject matter and their sheer honest emotion, he was the perfect student.
Hours upon hours of writing lyric and melody, Lee always challenged himself to be better, to kept his mind open to criticism and change. With uncanny focus and collaborating with other aspiring writers like himself, Lee wanted the opportunity to write as a staff writer, to make a real living doing what he loved, writing country music.
In 1996, three years of working part-time jobs so he could write, Lee signed an exclusive publishing deal with publisher and manager Estill Sowards and John Dorris.
After a few years as a staff writer David and co-writer Tony Lane landed their first cut together "This Old Heart" on Terri Clark's "How I Feel" cd in 1998 and in 1999 John Michael Montgomery's title cut "This One's Gonna Leave a Mark".
His first Top 10 came with Leann Womack's "Now You See Me Now you Don't" in 1999, followed by Brad Martin's "Before I Knew Better" in 2002.
In 2003 David signed with BMG Music Publishing and co-wrote his first #1 song  "19 Somethin" for Mark Wills, "Letters From Home" for John Michael Montgomery and received a Song of the Year Grammy nomination for Tim McGraw and Faith Hill's riveting love song "I Need You" followed by second #1 hit "Lucky Man" performed by Montgomery Gentry.
Later after the sale of BMG, David found a new home at Universal Music Publishing and wrote for six years having another #1 with Easton Corbin's "Roll With It", Alan Jackson's "You Go Your Way", Lady Antebellum's "Hello World", two Trace Adkins releases "I Wanna Feel Somethin" and "This Ain't No Love Song" and continued to score cuts by artist such as George Strait, Kix Brooks, Clay Davidson, Billy Currington and others.

In 2012 David signed with Ten- Ten Music Group (Barry Coburn) and in2014-2015 had two number one songs on the Texas charts by artist Cody Johnson, "Me and My Kind" and "Cowboy Like Me".

In October of 2015 the legendary multi award holding band Alabama cut two of Lee's songs "Come Find Me" and their first radio single in over 14 years, "I Wasn't Through Lovin' You Yet".
The last two years David has spent hours upon hours working on his first recording as an artist, his album "The Wichita Kid" will debut in early 2016. "The Wichita Kid" is a non-commercial concept record that chronicles David's life musically and without boundaries. The labor of love showcases his genuine love of the blues, swing and traditional country music.
In June of 2015 David relocated back to Texas hill country to be closer to friends, family, to share his love for great music as a performing singer/songwriter and away from the forever-changing corporate music industry. He is back to the basics, back to what he loves, singing and performing great music.
Sonny Throckmorton Bio:
Sonny Throckmorton started out as a performer, but instead he became one of the most successful songwriters in country music, with over 1,000 of his songs recorded by such artists as Tanya Tucker, Dave & Sugar, Merle Haggard, Jerry Lee Lewis, the Oak Ridge Boys, Doug Stone and even comedian George Burns.
He was born James Fron Sonny Throckmorton in Carlsbad, New Mexico, and spent much of his childhood traveling the Southwest before his family finally settled in Wichita Falls, Texas. After college, Throckmorton moved to San Francisco and played rock & roll in area clubs. At the urging of guitarist and publisher Pete Drake, he switched to country music and moved to Nashville in 1964, working as a bass player for Carl and Pearl Butler for two years. He then wrote for and managed Drake's publishing company. In 1965, Bobby Lewis had a Top Five hit with Throckmorton's "How Long Has It Been." He remained in Nashville for a few more years as a song promoter and staff writer for different companies before landing a job as a staff writer for the prestigious Tree Publishing. Unfortunately, none of the young writer's songs became hits, and he was fired.
In 1975, Throckmorton moved to Texas because he had promised himself that he would quit music if he didn't succeed by age 35. His fellow songwriters continued trying to sell Throckmorton's songs, however, and six months later he returned and was rehired by Tree. In nine months, over 150 of his songs were recorded, including "Thinking of a Rendezvous," Johnny Duncan's first number one hit. Another of his songs, "Knee Deep in Love with You," became a country standard. Between 1976 and 1980, a Throckmorton song appeared on the charts almost every week. His 1978 hit for Jerry Lee Lewis, "Middle Age Crazy," even became the basis of a major movie, and he was named Songwriter of the Year by the Nashville Songwriters Association three years in a row starting between 1978 and 1980.
In 1976, Throckmorton tried recording his own songs, first for Starcrest and then for Mercury, but the biggest hit he had, "Last Cheater's Waltz," only reached the Top 50. Fortunately, his stature as a major songwriter flourished and in 1980, he was named BMI Songwriter of the Year. Seven years later, with innumerable hits under his belt, Throckmorton was inducted into the Nashville Songwriters Hall of Fame. He recorded Southern Train for Warner in 1988 and then retired to his Texas farm to be with his family.